Robert
House Manager – Neon Wood Berlin Frankfurter Tor
Hi, it's Robert, I'm the House Manager at Neon Wood Berlin Frankfurter Tor. One of my tasks is to "keep the machine running" and to be always available at your needs.
Of course, I will also be happy to take care of your concerns at the reception and will be happy to listen to your questions and requests at any time.
Apart from the organizational tasks and the seriousness of life, I enjoy most of all the conversations and jokes with our students in the lobby, because there should always be time for a little fun in between! Of course you can also try to challenge me to a party pool billiards…. ?

Nicole
Assistant to Director of Sales & Marketing – Headquarter
I'm Nicole and I'm part of the marketing team and our social media appointee. You will get regularly news about our promotions, Neon Wood competitions, new Neon Wood openings and  event tips from me via newsletter, Facebook or Instagram. Additionaly, I'm hosting our TikTok account with sometimes more and sometimes less sincere videos. Follow us on our social media channels, I'm always happy to get in touch with you and get feedback on our posts.
Marcel
Assistant House Manager – Neon Wood Berlin Mitte-Wedding
Hi, I'm Marcel.
I am part of the small team that takes care of the operational affairs in Mitte-Wedding.
Apart from reservation related questions, we are the best contact for you.
Just talk to me if you have something on your mind or a funny story that needs to be told.
Most of the time you can find me on the ground floor in that giant office with sofas and air hockey table 🙂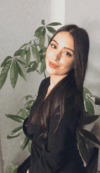 Klaudija
Reservations – Neon Wood Berlin Frankfurter Tor
Hey, I'm Klaudija, Your Reservation Agent for our Neon Wood Berlin Frankfurter Tor.
I am always available to go through our booking process with you and find the perfect apartment for you. At the end, after we have find out the one and only apartment for you and your successful booking, you will receive your lease agreement directly from me.
I will also be happy to answer your questions about renting, lease extensions or about general questions. I am always available for you.
When I am on site in our residence, you can also contact me directly and ask me your questions in a nice chat. I look forward to see you soon =)