Study at one of the best universities of the world & stay in one of the coolest student housings ever…
Cause everything we do, we do it for you!
Brand Video of a Marketing Student living with us
Interviews with our tenants as we listen to you
The beat of Neon Wood
You wouldn't study just anything, so don't stay just anywhere either…
Experience the Future of Student Housing
Neon Wood is a standout student community with apartments stylishly designed for those who love the buzz of big cities. With us, you have a fully-furnished home complete with high speed wifi, gym, gaming areas, multimedia gaming room, 24-hour laundry, study areas  and a very spacious community lobby. There's also solid access to a diverse network of friends, events, and other amazing opportunities.
Awards received in 2023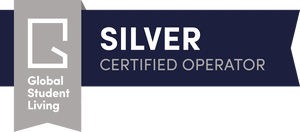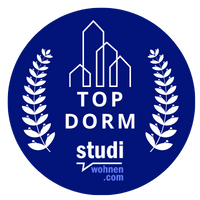 Why Neon Wood Student Apartments?
+ Always centrally located
+ Single and Double Apartments
+ Fully furnished and in our Neon Silver & Neon Gold categories fully equipped (dishes, pillow, blanket, TV, etc) – excl. duvet cover & towels
+ High quality Urban Design
+ Familiar atmosphere in an international Community
+ Spacious Community Areas (Lobby, Laundrette, Garden, possibly Gym)
+ Exciting Events
+ Incredible cooperation Partners with incentives for our tenants only
+ Cashless Payments & High Security Level
Book your personal site view – on-site or remote via video call
Community – Join the Neon Wood Family
Feel safe at home in an atmosphere where meeting new and inspiring people can easily be done.
Coziness – A Place Like Home
Seize the unique possibilities that only Neon Wood Student Housing can bring you.
Convenience – The Easy Way of Living
Book your student apartment directly online and sign your lease in our digital private membership area and help saving paper. Live in a place where payments are all cashless and new friends are just a step away.
Always In-House & included in your rent at Neon Wood
High Speed Internet included

Netflix and chill fans, never fear a slow Internet. High speed wifi up to 1 Gbit/s is built into your world here at no extra cost thanks to Neon Wood's own glassfiber high speed connection.

24/7 Gym included

Enjoy your workout in our 200 sqm gym. As a tenant of one of our Neon Wood you have free entry 24/7. Whether cardio area or weight training, our gym offers you a perfect balance during your hard study time.


Community Lobby

The variety within our community lobby offers an impressive world of options from the high tech to the cleverly vintage: Console gaming exists alongside the likes of pool, ping-pong and air hockey. The lobby also gives residents access to the tranquil world of our gardens and other open spaces.

Spacious Study Areas

You don't want to be alone while you are studying? No problem, we offer plenty of spaces for learning in our study areas near the lobby. You can also find an extra silent study room here, where you can enjoy the silence while learning together.

Outdoor Areas

Enjoy the beautiful weather while relaxing in our outdoor areas. In our spacious courtyards you will find many recreational and relaxation opportunities.

Gaming Area

You like Billiards, Table Tennis, Kicker, or Air Hockey? In our lobby and the Laundrette you will find many opportunities for your leisure activities. A multi-media room is also at your disposal.

Gaming Room

In our gaming room, you'll find game consoles and games that you can play with up and down at anytime on our giant screen. Either completely on your own or with your friends.

Community & Events

We live in the community. With our on-going events you can easily meet new people & make friends. Whether our welcome parties, summer or Christmas party or our many small events, you'll never be bored with us. You like to live fit? With yoga and many tournaments we offer you variety.

Community Manager

We want to support you during your studies and make your life as easy as possible. Our community managers in the properties are available for you every day from Monday to Sunday. They help you with all questions.

Security Service

Safety is very important to us. You can enter Neon Wood with a room card only. You can use your keycard as a digital form of payment. Cash, no thanks. Cameras monitor all public areas as well as the hallways. A security service is always on-call, if our community managers are not reachable.

Laundry Service

Whether in need of a clean outfit or a meeting point for the evening, the laundry hall has got it all. We have washers and dryers ready in their own unique lounge, along with couches and vending machines. Designed as a social space just like our lobby, washing clothes may even become a thing to look forward to. (extra costs)

Cleaning

We clean the common areas for you every day, so you always have a cleaned Neon Wood available. Upon request, we also clean your apartment. (extra costs)

Vending Machines

We offer you some vending machines in our houses. Here you will find cold snacks & drinks and budgetary supplies for your daily needs. You can easily buy your articles cashless, easily with your keycard.

Bicycle Storage

Bicycles are very popular in big cities, we know that. You can safely store your bike with us, we offer storage facilities in our courtyards and in the basement areas.

Partners

Living & renting at Neon Wood also means enjoying many great benefits with our cooperation partners. Have a look on our different locations to check which partners we are collaborating with.
On-Demand
Housekeeping

Whatever the state of your room is, you can always book a cleaning service to help keeping your apartment clean.

Printing

You have to print a few documents urgently for the university? No problem, at our reception you have a printer at your disposal.
Feel comfortable already by renting.
Book your apartment totally easy and directly online.
No Schufa is required
No special declaration from guarantor's
No salary statement
Choose your apartment in your favorite location and become part of Neon Wood community. You are under 18? No problem! Send us your parental consent, we will ask for it by the booking.
You need some help or hesitating? We will find together the best solution for you! Contact our reservations via phone: +49 (0) 30 555 707 112 or email: info@neonwood.com
Life On-Site
On-site life is ideal for enjoying events, meeting new people and absorbing a uniquely international perspective from your neighbors. Our site hosts talks, seminars, game nights, lobby concerts and much more. Also, our on-site and online teams provide a unique network of info and support for our students.
Want to visit? No problem! Feel invited and contact us via email: info@neonwood.com or phone: +49 (0) 30 555 707 112

Life at Neon Wood
Located in the heart of each city, moving here means entering a diverse community of open-minded international students and always having an ultra-comfortable private space to call home. New friends, exciting events and adventures around town are always right around the corner.


Renting at Neon Wood saves you discounts at many partners!
Being a tenant at Neon Wood doesn't just mean getting a good deal on the included on-site services. You will also save money outside of Neon Wood with great discounts from our many cooperation partners. How you get them? This you can check out in your private membership area as a tenant of Neon Wood.