Riedberg – Car Parking
Deluxe Patio - 37m²
Enjoy the advantages of a room with its own terrace including the direct and quickest access to our courtyard and community areas. On top you get more latitude through more space on 37m². Your patio deluxe apartment offers your personal living experience in a comfortable space. Our bed with feel-good factor, your own workspace and additional dining area, sufficient storage throughout the room, a stylish kitchenette with microwave, induction hob, fridge and a modern shower room turn your apartment into a small wonderland. You`d like to go a little higher? Then have a look on our Penthouse Balcony category.
Deluxe Patio - 37m²
Duration: 12 up to 36 months
Please note, the move out is scheduled one week before the end of the lease agreement.
Lease renewable without prior move out
*Floor plans, pictures and presented furniture may differ slightly
Rent Now



Patio Deluxe Apartment – 360° View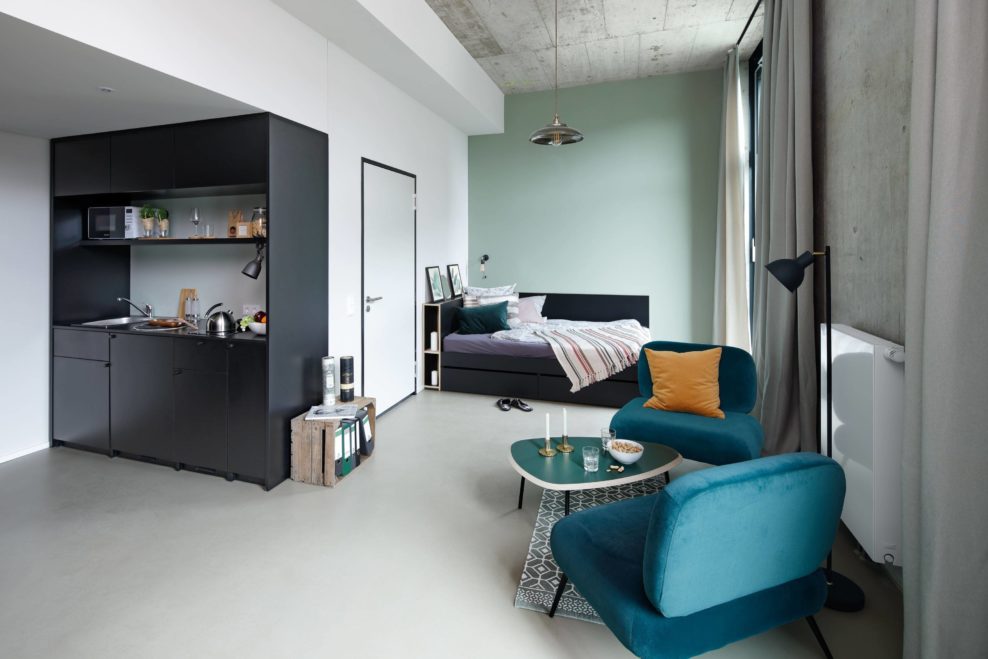 In-House & included in your rent at Neon Wood Frankfurt Riedberg
High Speed Internet included

Netflix and chill fans, never fear a slow Internet. High speed wifi/ lan up to 10 Gbit/s is built into your world here at no extra cost thanks to Neon Wood's own glassfiber high speed connection.

Community Kitchen

You want to cook together with your friends and turn the evenings to something special? Hangout together with other students in our community kitchen and get inspired from the internationality of Neon Wood.

24/7 Gym included

Enjoy your workout in our 160 sqm gym. As a tenant of one of our Neon Wood you have free entry 24/7. Whether cardio area or weight training, our gym offers you a perfect balance during your hard study time.


Community Lobby

The variety within our community lobby offers an impressive world of options from the high tech to the cleverly vintage: Console gaming exists alongside the likes of pool, ping-pong and air hockey. The lobby also gives residents access to the tranquil world of our gardens and other open spaces.

Spacious Study Areas

You don't want to be alone while you are studying? No problem, we offer plenty of spaces for learning in our study areas near the lobby. You can also find an extra silent study room here, where you can enjoy the silence while learning together.

Outdoor Areas

Enjoy the beautiful weather while relaxing in our outdoor areas. In our spacious courtyards you will find many recreational and relaxation opportunities.

Gaming Area

You like Billiards, Table Tennis, Kicker, or Air Hockey? In our lobby and the Laundrette you will find many opportunities for your leisure activities. A multi-media room is also at your disposal.

Gaming Room

In our gaming room, you'll find game consoles and games that you can play with up and down at anytime on our giant screen. Either completely on your own or with your friends.

Community & Events

We live in the community. With our on-going events you can easily meet new people & make friends. Whether our welcome parties, summer or Christmas party or our many small events, you'll never be bored with us. You like to live fit? With yoga and many tournaments we offer you variety.

Community Staff

We want to support you during your studies and make your life as easy as possible. Our community staff in the properties are available for you at least every day from Monday to Friday. They help you with all questions.

CCTV

Cameras monitor all public areas as well as the hallways for your safety.

Security Service

Safety is very important to us. You can enter Neon Wood with a room card only. You can use your keycard as a digital form of payment. Cash, no thanks. A security service is always on-call, if our community managers are not reachable.

Laundry Service

Whether in need of a clean outfit or a meeting point for the evening, the laundry hall has got it all. We have washers and dryers ready in their own unique lounge, along with couches and vending machines. Designed as a social space just like our lobby, washing clothes may even become a thing to look forward to. (extra costs)

Cleaning

We clean the common areas for you every day, so you always have a cleaned Neon Wood available. Upon request, we also clean your apartment. (extra costs)

Vending Machines

We offer you some vending machines in our houses. Here you will find cold snacks & drinks and budgetary supplies for your daily needs. You can easily buy your articles cashless, easily with your keycard.

Bicycle Storage

Bicycles are very popular in big cities, we know that. You can safely store your bike with us, we offer storage facilities in our courtyards and in the basement areas.

Partners

Living & renting at Neon Wood also means enjoying many great benefits with our cooperation partners. Have a look on our different locations to check which partners we are collaborating with.
On-Demand
Housekeeping

Whatever the state of your room is, you can always book a cleaning service to help keeping your apartment clean.

Printing

You have to print a few documents urgently for the university? No problem, at our reception you have a printer at your disposal.